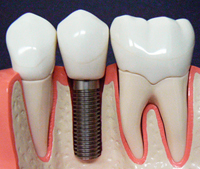 Implants
A dental implant is used to replace a missing tooth. It is made from titanium and inserted into the jawbone to act as an artificial root. A crown is attached to the implant and it looks and functions like a real tooth.
Bridges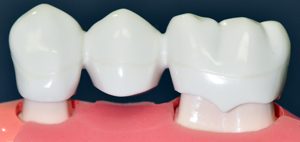 Bridges are a fixed way to replace one or more missing teeth. They consist of an artificial tooth anchored to the natural teeth on each side of the gap. Bridges can be made of extremely strong porcelain, or porcelain fused to gold alloy. Porcelain is strong and can be made to match the colour of the natural teeth. Gold alloy is used underneath the porcelain for its strength and durability.

Dentures
When teeth are lost a denture can be worn to replace those teeth to maintain normal functions such as chewing, speech and appearance. A denture is a removable appliance. In some cases your dentist may recommend implants in correlation with dentures for added stability.